NEIGHBORS FOR RATIONAL GROWTH
The following letter to the editor was printed
in the June 12 issue of the Star.
CVS deal is not done
Neighbors For Rational Growth (NFRG) have heard many people in town say "What's wrong with a new CVS?!" And we get it. We prefer to focus on the positive, too! But "No Mega CVS" does not mean "No CVS." "No Mega CVS" means keeping Winchester safe from over development in all our neighborhoods, now and in the future, in every part of town. "No Mega CVS" is about making sure a national brand does not receive special treatment, compromising our residential neighborhoods and threatening the economic health of our increasingly vibrant downtown.
Out-of-state developers want to build a big-box store with a minute clinic that is almost double the size allowable for the five adjoining properties on the corner of Washington and Swanton streets. The zoning board approved their proposal, regardless of the fact that it does not adhere to our bylaws; in other words, they are breaking the law. Our neighbors have been forced to go to land court to defend the same bylaws the rest of us have to obey!
Our success is completely dependent on the ability to retain professionals to make our case. Your contributions make that possible. Your neighbors need your help. There is a website to learn more, become involved and to contribute to this cause: www.nomegacvs.com.
Please remember that this is not a done deal.
Sue Johnson, Swanton Street
Your help is needed NOW more than EVER!
Please make a donation TODAY!
Get talking Winchester! This is our town.
We are moving forward with appealing the Zoning Boards decision on the grounds that they have not upheld the Town of Winchester's Zoning By-laws in regard to the following: parking space dimensions and designated requirement of a fire safety lane around the structure's perimeter.
The significance behind the parking space size is critical, not only to the final outcome of this project, but for future developments in our town. It is the difference between a 14,000 sq ft mega store and a development whose size is of an appropriate scale for a commercial property that sits surrounded by the homes of your Winchester neighbors.
If the Zoning Board and it's officers are allowed to dismiss the zoning bylaws in this case, ALL of Winchester's residents and business owners are at great risk of seeing zoning bylaws ignored in the future, which ultimately effects homeowner's property values and business's viability. If the Zoning Board is not challenged on a project of this great a scale, how can we be assured that similar infractions will not occur in the future involving both commercial and residential projects, both large and small?
Your help is needed NOW more than EVER!
Please make a donation TODAY!
By the way...has your NO MEGA CVS sign "gone missing"?! You're not alone! Request a replacement on the "Volunteer" Form...
and we will replace the sign that "disappeared"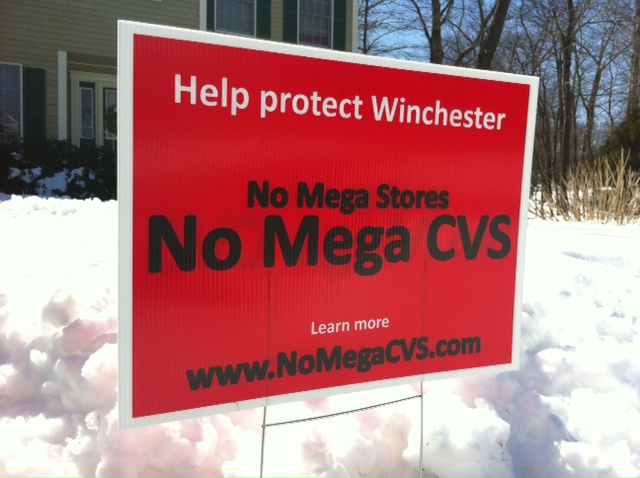 SIGN THE PETITION NOW!
Click on this live link...
https://www.change.org/petitions/to-cvs-caremark-corporation-stop-plans-for-a-mega-cvs-store-in-winchester-ma
News
Thursday, March 21, 2013 12:28 PM
On Thursday, March 21st, Brenda Buote and the Boston Globe published a story about the proposed CVS.
It pictures our signs and links to our website.
---
Tuesday, January 29, 2013 11:00 PM
Winchester Pharmacy, an independently-owned and operated pharmacy, has opened their doors at the site of the former Winchester Drug.