NEIGHBORS FOR RATIONAL GROWTH
Please attend these upcoming meetings:
April 3, 2014 7:00 pm
Committee on Government Regulations
Winchester Town Hall
Mystic Valley Room
April 10, 2014 8:00 pm
Planning Board Meeting
about the Spring Town Meeting Zoning Articles
Winchester Town Hall
Board of Selectman's Meeting Room
Get talking Winchester! This is our town.
We are moving forward with appealing the Zoning Boards decision on the grounds that they have not upheld the Town of Winchester's Zoning By-laws in regard to the following: parking space dimensions and designated requirement of a fire safety lane around the structure's perimeter.
The significance behind the parking space size is critical, not only to the final outcome of this project, but for future developments in our town. It is the difference between a 14,000 sq ft mega store and a development whose size is of an appropriate scale for a commercial property that sits surrounded by the homes of your Winchester neighbors.
If the Zoning Board and it's officers are allowed to dismiss the zoning bylaws in this case, ALL of Winchester's residents and business owners are at great risk of seeing zoning bylaws ignored in the future, which ultimately effects homeowner's property values and business's viability. If the Zoning Board is not challenged on a project of this great a scale, how can we be assured that similar infractions will not occur in the future involving both commercial and residential projects, both large and small?
Your help is needed NOW more than EVER!
Please make a donation TODAY!
By the way...has your NO MEGA CVS sign "gone missing"?! You're not alone! Request a replacement on the "Volunteer" Form...
and we will replace the sign that "disappeared"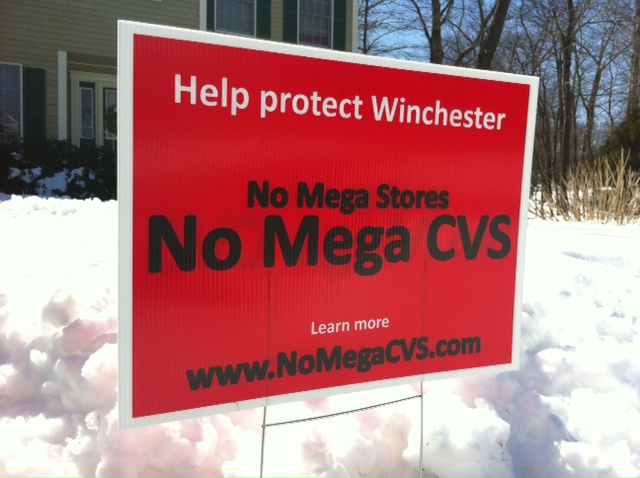 SIGN THE PETITION NOW!
Click on this live link...
https://www.change.org/petitions/to-cvs-caremark-corporation-stop-plans-for-a-mega-cvs-store-in-winchester-ma
News
Thursday, March 21, 2013 12:28 PM
On Thursday, March 21st, Brenda Buote and the Boston Globe published a story about the proposed CVS.
It pictures our signs and links to our website.
---
Tuesday, January 29, 2013 11:00 PM
Winchester Pharmacy, an independently-owned and operated pharmacy, has opened their doors at the site of the former Winchester Drug.